Focus on
Latest News
Title

SEOUL LIGHT

추천수

0

Registration Date

2019-11-20
SEOUL LIGHT
SEOUL LIGHT is a citizen-friendly event that highlights the role of the display screens of public buildings (through innovative AI technologies) and the future of and experiences offered by SEOUL LIGHT.
The entire outer wall of the DDP building designed by Zaha Hadid becomes a gigantic exhibition hall during the year-end and New Year's period (December 20-January 3). As the sun sets and the darkness falls, a large-scale light show will be featured, combining DDP's curved silver exterior with splendid lights, images and music. The show's overwhelming scale and unstoppable dynamism will undoubtedly change the night view of Dongdaemun completely.
The theme for 2019, the first year, is "SEOUL HAEMONG," meaning the past, present and future of Seoul and Dongdaemun through data visualized contents. World-renowned media designer Refik Anadol from Turkey takes part as the main writer, and executive director Min Se-hee takes the lead of media facade using artificial intelligence.
Photos depicting the past of Seoul and Dongdaemun and photographic data of Seoul taken by citizens themselves are collected before being interpreted and recombined through such technologies as AI and machine learning and expressed as light and images. There are also plans to capture stories of various people through citizen voluntary participation.
SEOUL Light features intrinsic light content utilizing DPP's unique exterior. SEOUL Light will be operated as a basis for night tourism during the winter when the number of travelers declines markedly to contribute to the development of Dongdaemun as the premier light content festival leading DPP's future. We will maintain the vitality of the area with stories citizens can sympathize with by expressing public narratives through arts and technology.
​○ SEOUL LIGHT : SEOUL HAEMONG

 Seoul Haemong is a symbolic video comprised of three chapters ('Past, Present, and Future of Seoul and the DDP').
 12.20(Fri) 8pm-9pm
​○ Seoul Haemong Behind-The-Scenes Workshop

 Sharing of work process and technical approaches. 
 12.21(Sat)
 Presentation by : Refik Anadol (media designer)
​○ Christmas Seasonal Greeting

 Directing of video targeted at citizens (creation of Christmas video messages by citizens).
 12.24(Tue)-25(Wed) 8pm-9pm
 Directing of video on New Year's Eve countdown and Happy New Year message.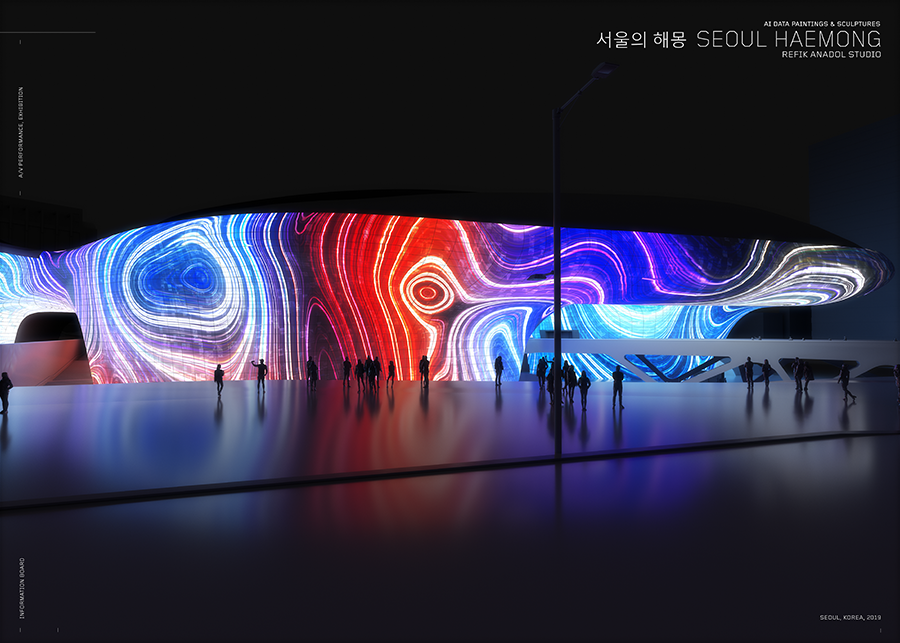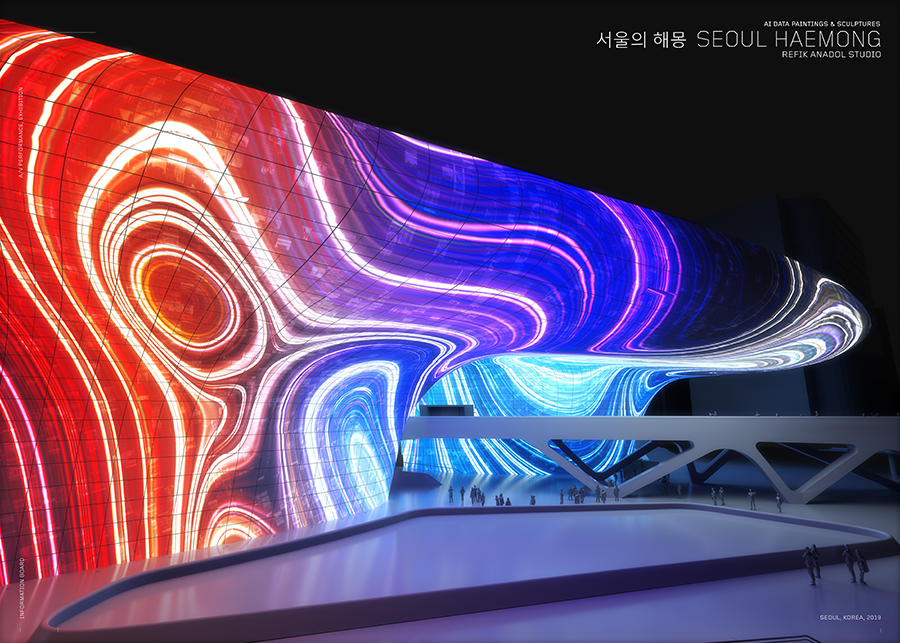 SEOUL HAEMONG consists of three chapters and each chapter shows the "past, present and future of Seoul and DDP" symbolically.
▶ Chapter 1: Past (4 minutes)
Chapter 1 is the moment "SEOUL HAEMONG" begins. DDP is interpreted as the city's canvass and the moment the building remembers is explored to show a "topographic map of memories."
▶ Chapter 2: Present (6 minutes)
Chapter 2 describes the moment new memories are collected and relationships built with people for the sake of "SEOUL HAEMONG." Visitors will experience similar features and interesting points while exploring the collected data and tour the "space of memories" through this.
▶ Chapter 3: Future (6 minutes)
Chapter 3 interprets Seoul's dream through machine learning. The appearance of dreams and "awareness of memories" are displayed through images created by AI sometimes and passing movements at other times by recombining and reconstituting Seoul's memories. 
  

Refik Anadol

○ Born : 1985 (34), Turkey (residing in LA)

○ Academic Background

 - Master of Arts in Visual Communication Design, Istanbul Bilgi University 

 - Master of Arts in Media Art, University of California, U.S. 

○ Professional Field : Media facade directing using AI 

○ Major Works

 - Media facade 'Dream' (2018) at Walt Disney Concert Hall, LA 

    (Directing LA Philharmonic Orchestra performance, Frank Gehr Building)

 - Swiss Zurich Volvo Art Session 'Melting Memories' (2019)

○ Awards 

 - Lorenzo il Magnifico 

 - Microsoft Research's Best Vision Award

 - German Design Award 

 - Google (Art and Machine Intelligence)
◆ Major Works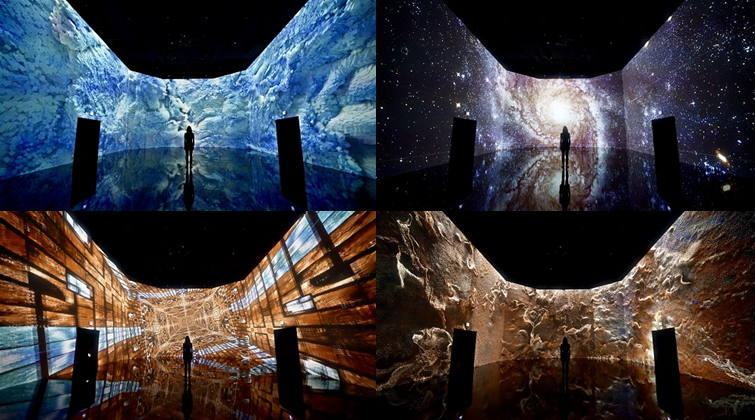 < Infinite Space >, 2019, Washington DC, U.S.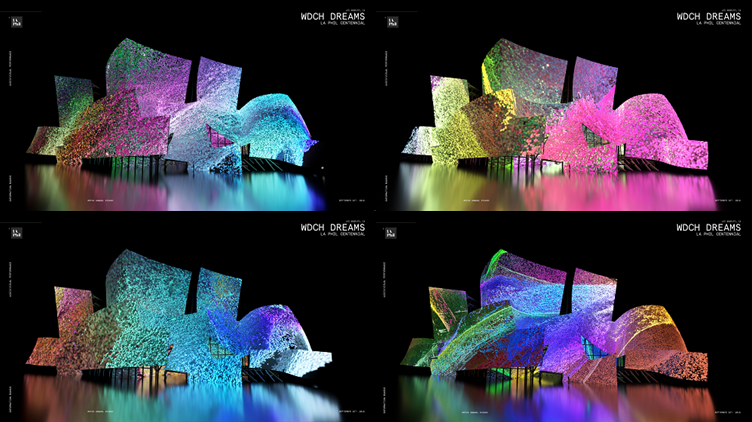 < 'Dream' at Walt Disney Concert Hall >, 2018, LA, California
DDP Design Avenue