Focus on
Latest News
Title

DDP Open Curating Vol. 15 [House of the Future: Apartopia]

추천수

0

Registration Date

2021-02-22
DDP Open Curating Vol. 15
[House of the Future: Apartopia]
The Seoul Design Foundation has held DDP Open Curating since 2015 to create a platform for realizing various creative ideas, and discovered and introduced up and coming exhibition designers and project managers through various themed open calls.
An open call for an experimental and innovative project was held in 2020 under the theme "Design for Home," which studies the "home" from a design-based point of view. The four selected exhibitions were scheduled to be introduced at DDP Gallery MUN this year, but the schedule was adjusted for safety concerns as well as disease control and prevention measures in the midst of the COVID-19 pandemic.
As the first DDP Open Curating exhibition for 2020 and the first online exhibition, DDP presents House of the Future: Apartopia by Architectural/Practice.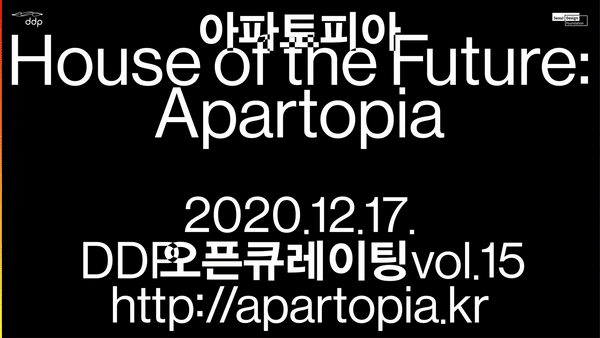 The exhibition observes the new behaviors, spaces, and cultures that react to residential types (e.g. apartment units, officetels, studio apartments) with generalized space organizations that dominate Seoul to image a future Seoul where urban and architectural traces exist.
Apartopia discovers clues of a future city based on eight apparatuses found in the laboratory that is Seoul—storage, toilet, washbasin, exercise equipment, kitchen, laptop, flowerpot—and arbitrarily interprets the future of the city based on these utensils.
• Artists: Seohu Ahn, Sungbum Heo, Eunwha, Sisan Lee, Giseok Kim, Gunhyuk Choi
• Director: Seoul Design Foundation
• Project Manager: Architectural/Practice
Keyword Tag
ddp open curating vol. 15 [house of the future: ap