Press
Title

[The Korea Herald] Game changers gather for Sustainable Fashion Summit Seoul

추천수

0

Class

media report

배포일

2019-10-17
Game changers gather for Sustainable Fashion Summit Seoul
[The Korea Herald]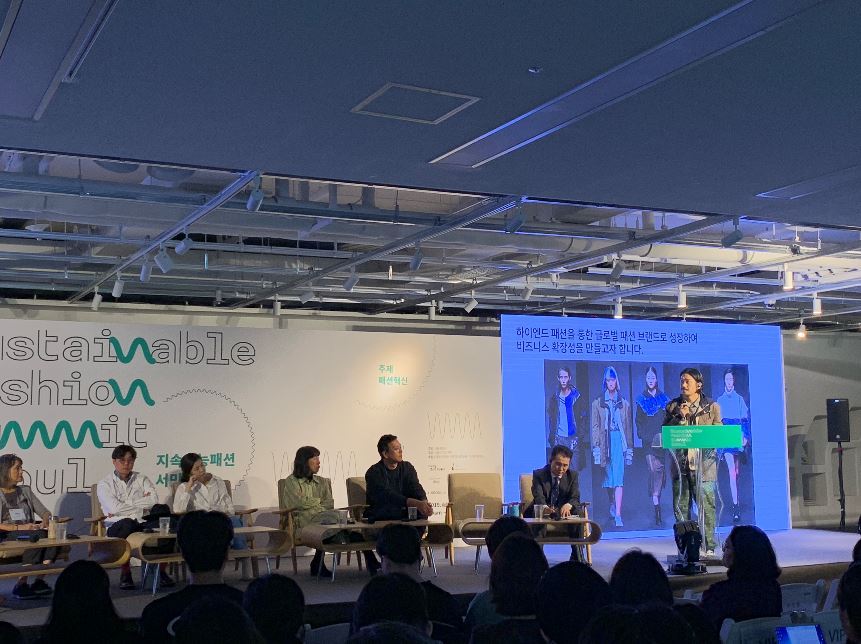 Lee Sung-dong, creative director of Ul:kin speaks during at the Sustainable Fashion Summit Seoul held Thursday at the Dongdaemun Design Plaza, Jung-gu, central Seoul. (Im Eun-byel / The Korea Herald) 
With the 2020 Spring-Summer Seoul Fashion Week currently underway, the organizers hosted a forum to discuss sustainable fashion on Wednesday and Thursday
The Seoul Design Foundation hosted Sustainable Fashion Summit Seoul at the Dongdaemun Design Plaza in central Seoul invited fashion designers who are currently participating in sustainable fashion projects from here and abroad.
The event was divided into four sessions: fashion and community development; harmony of human and technology; sustainable fashion new wave; innovation and reinvention, along with exhibitions, roundtable talks and debates.
"I first began with a draft painting that my artist friend had thrown away. I made bags with it, and the response was unexpected. The bags were immediately sold out with buyers asking for more," said Ul:kin creative director Lee Sung-dong. 
Read more : http://www.koreaherald.com/view.php?ud=20191017000686&ACE_SEARCH=1
Keyword Tag
sustainable fashion summit seoul