Press
Title

[Korea Joongang Daily] A fashion pioneer's colorful career

추천수

0

Class

media report

배포일

2019-10-22
A fashion pioneer's colorful career 
[Korea Joongang Daily]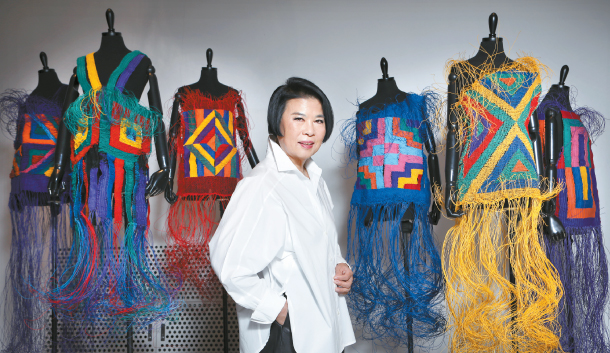 Sul Yun Hyoung was selected as the featured designer at a special exhibition being held during the 2020 Spring/Summer Seoul Fashion Week. The 75-year-old designer is known for incorporating traditional Korean elements into her style. [PARK SANG-MOON]
Every fall, while local fashion brands show off their Spring/Summer collections for the upcoming year, Seoul Fashion Week simultaneously hosts an archival exhibition honoring Korean designers who were active in the industry for over 20 years.
This season's star is Sul Yun Hyoung, one of the designers responsible for laying the foundation of Seoul Fashion Week along with the likes of Lie Sang Bong and Gee Choon-hee of Miss Gee Collection.
Selected creations from Sul's 50-year-old fashion career are on display at "Hyeonghyeong-saeksaek," or "The Varicolored World of Sul Yun Hyoung," now open through Nov. 7 at the Design Pathway at Dongdaemun Design Plaza (DDP) in central Seoul.
Elements of "Koreanism," a term commonly used to describe Sul's designs, pervade throughout the collection, enriched with bright colors and an extensive range of unique materials and intricate techniques. Examples include silk embroidery, Korean folk paintings, entwined strips of mulberry paper and colored threads made in the form of sangmo, or hats worn by musicians from the Joseon era (1392-1910).
Read more : http://koreajoongangdaily.joins.com/news/article/article.aspx?aid=3069298 
Keyword Tag
a fashion pioneers colorful career